event details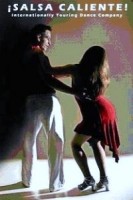 December 6, 2017
Ever dreamt of being part of a touring dance group?
Ever imagined yourself on an international stage?
Ever wanted to improve your dancing while having fun?
Come and be part of one of our teams!
Wednesday, December 6
8:00- 8:30pm Registration & Interview
8:30- 9:00pm Footwork
9:00- 9:30pm Partnerwork
9:30- 10:00pm Social Dancing
Cafe Casablanca, 2524 Bridge St
FREE or $15 includes written assessment of your dancing.
All dancers completing the audition with a positive attitude will be placed on one of our teams.
No experience or partner required.
For more information, or to register, call 250-881-6141 or email info@calientedance.com
2017 was a really exciting season for ¡SALSA CALIENTE! We traveled to the Puerto Rico Salsa Congress in July & the New York Salsa Congress in September for the 16th consecutive year. In the past we have also toured to Atlanta, Chicago, Toronto, the Bahamas, and Italy.
Requirements: A passion for dance, a willingness to learn & work hard, a positive attitude, the ability to work as part of a close group, a strong sense of commitment. No partner or dance experience required!
Return to List of Events